International Bestselling and Award-Winning Book
Entrepreneur Releases Beginner's Guide to Psychedelics for Chronic Sufferers of Anxiety, PTSD, Depression & More
Recent studies show that there is new hope in the treatment of depression and anxiety that is more effective than antidepressants. Scientists are finding increasing evidence for the benefits of mind-altering drugs such as ketamine, MDMA, and psilocybin mushrooms. A recent study* found that psilocybin was more effective than a popular antidepressant drug. In fact, brain-imaging studies have found that these psychedelic drugs help increase connectivity in the brain. The current theory is that the substances help people to reprocess old emotions in a new light, while also rewiring the brain to reduce depressive tendencies. This is not just hippy-talk, we are seeing that major universities, government scientists, and big pharma are studying psychedelic drugs for mental health – with almost 100 clinical studies happening right now and more than 300 university psychedelic programs in place! Discussion groups for the general public are appearing on Reddit, Facebook, and special interest groups where mental health sufferers discuss micro-dosing, sub-anesthetic dosing, and their own successful experiences with Ketamine, Psilocybin, Ayahuasca, MDMA, LSD, Peyote and San Pedro, and other banned psychedelics. A 2013 peer-reviewed study estimated that there were 32 million psychedelic users in the United States, not including ketamine users.** But where can the novice find out about these alternative therapies?
Nowhere is there a definitive book or reliable science-backed resource to educate consumers (and clinicians!) on the myths, facts, real experiences, and legalities of psychedelic drugs for mental health until now. Psychedelics for Everyone by trauma survivor Matt Zemon MSc is a wonderfully-informant reference guide for individuals with a non-science background who are searching for a reliable source of unbiased, science-backed insights and practical guidance for safe use that anyone can read, understand, and trust. (Psyched Publishing; October 3, 2022, ISBN: 979-8-9862674-0-1 hardcover $27.95; 979-8-9862674-3-2 paperback $18.95)
With a Master of Science degree in the psychology and neuroscience of mental health, Zemon notes that he has had numerous conversations with medical professions who regularly use psychedelics as tools to help individuals navigate and survive their mental health challenges, and he has spoken to hundreds of people whose lives have be positively transformed by the power of psychedelics. In his book foreword, Matt writes that there is a lot of information on psychedelics available, but much of it is not written for the average person. When I first started down this path, I found most of the literature to be either too technical, too woo-woo, or too opinionated. The chapters in this book have been medically reviewed for accuracy so that the reader gets the best scientifically accurate information. As social media, culture, and documentaries bring the psychedelic conversation further out of the shadows of its 1970s demise, more consumers, clinicians, academics, and even the government are considering the possibilities that psychedelics can offer for mental health. There is an enormous amount of interest in microdosing, where the person ingests subperceptual amounts of psychedelic drugs, such as psilocybin mushrooms or LSD. The number of Americans who microdose is unknown, although a 2019 analysis of a Reddit discussion group devoted to microdosing recorded 27,000 subscribers; as of April 2022, the number had ballooned to 194,000.*** Conferences, educational modules, and pop culture references around microdosing psychedelics are prevalent and proliferating.
In light of the widespread cultural and academic interest in psychedelic drug therapies, Matt Zemon imparts invaluable knowledge to help consumers make an informed decision about introducing psychedelics into their wellness journey. In Psychedelics for Everyone, Mr. Zemon highlights:
The real history of why many psychedelics are illegal

How to microdose

How to keep yourself safe

What to expect from psychedelic therapy

How psychedelics are being used to treat addiction

How and where you can take psychedelics legally

How to find a psychedelic retreat, and a practical guide on what to pack

How ketamine is used legally for anxiety, depression & optimization

Techniques for psychedelic preparation and integration

The unexpected role of psychedelics in religion
In an interview with Matt, he could discuss:
His Personal Trips: Up close and personal journeys for overcoming trauma, processing grief, gaining empathy, and connecting better with his neurodiverse child.

The Top Five Myths & Rumors of Psychedelics.

The Legality Factor in 2022: The FDA, US government control for psychedelics, and legal options.

The Promise of a Better Tomorrow: Current studies on psychedelics and the promising strides.

Turn On, Tune In, Drop Out: How to include micro-dosing and psychedelics with your therapy sessions.

Veterans with PTSD: 67% success in clinical trials involving MDMA.

From Entrepreneur to Psychonaut: Why entrepreneurs are turning to drugs for inspiration and innovation.

The Money Trail: Who is investing in psychedelics and why?

The Politics of Medicinal Psychedelics: Who is advocating for decriminalization & what the future holds.
About the Author: Matt Zemon MSc:

Matt received his Master of Science in Psychology and Neuroscience of Mental Health with honors from King's College London. He is the author of Psychedelics for Everyone and Beyond the Trip. As a prolific entrepreneur in the wellbeing sector, Matt was the CEO and Co-Founder of HAPPŸŸ, a mental wellness company that specializes in psychedelic-assisted oral ketamine therapy along with digital therapeutics that promote life-transforming outcomes, the co-founder and Chief Strategy Officer of Psychable, an online community connecting people who would like to explore the healing power of psychedelics with a network of practitioners and psychedelic-based treatments, and the co-founder of Take2Minutes, a nonprofit dedicated to helping individuals improve their mental health and wellbeing. In addition, he was the founder and CEO of Bernard, a company that provides billing and call center services, and the COO of LiveAnswer before it was acquired by Stericycle. Zemon is a sought-after speaker, most recently appearing at several of the largest psychedelic conferences in America such as MeetDelic, Psychedelic Science, and the Mental Health Marketing Conference.
In 2019, Mr. Zemon had an opportunity to experience a guided psilocybin (magic mushroom) journey, and it completely changed his worldview. Since then, he has gone from someone who had never taken any drugs to doing a deep dive into the study of human consciousness with the help of psilocybin, ayahuasca, ketamine, LSD, MDMA, DMT, 5-MeO-DMT, and more. Psychedelics for Everyone is his attempt to share some of the insights he has gained with the world of psychedelics. While Matt is not suggesting that psychedelics are a panacea that will solve all of life's problems, he is confident that they can play a powerful role in healing and connection, both for the people that choose to use them and for those that do not.
Psychedelics for Everyone Book Awards and Recognitions:
Foreword INDIES Book of the Year Award Finalist for Health and Body (2023)

Foreword INDIES Book of the Year Award Finalist for Mind and Spirit (2023)

Eric Hoffer Award Finalist for Da Vinci Eye (2023)

IPPY Award Gold Medal for Best Adult Non-Fiction Personal Ebook (2023)

Nonfiction Book Award Silver Medal for Alternative Medicine (2023)

Nonfiction Book Award Silver Medal for Mental Health (2023)

Living Now Book Award Gold Medal for Living Now Evergreen, Health & Wellness (2023)
Footnotes:
*https://www.dw.com/en/what-causes-depression-not-low-serotonin-levels-says-new-study/a-62681480 https://www.nature.com/articles/s41591-022-01744-z
**https://www.ncbi.nlm.nih.gov/pmc/articles/PMC3917651/#:~:text=There%20were%20approximately%2032%20million,and%2015%25%20of%20females).
***https://blog.petrieflom.law.harvard.edu/2022/04/08/microdosing-at-work-business-and-legal-implications/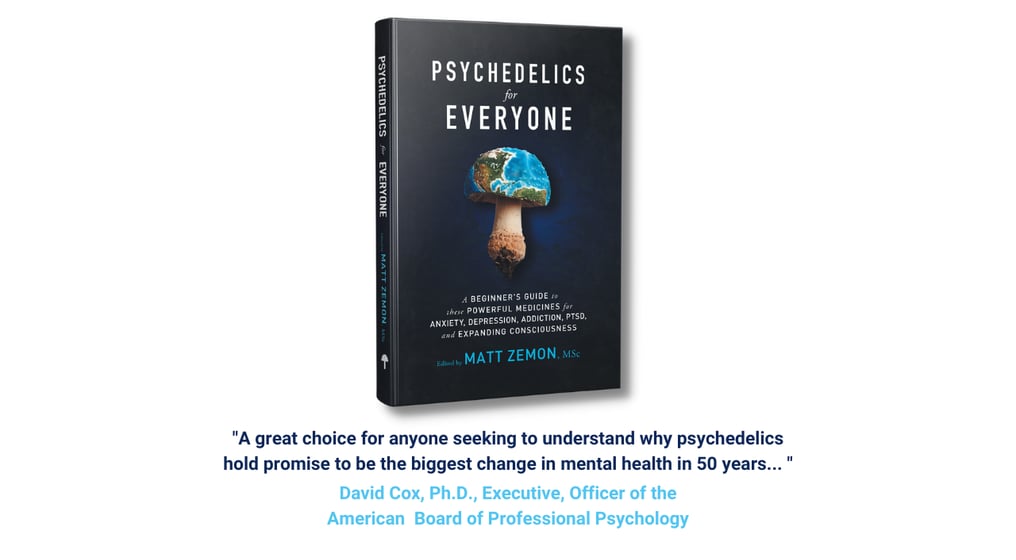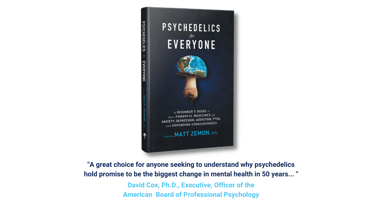 A History of Psychedelics
Psychedelic Myths & Rumors
A Beginner's Guide to Microdosing
ADVANCED PRAISE FOR PSYCHEDELICS FOR EVERYONE
"Psychedelics for Everyone is a fascinating read that takes you on a guided trip of all that is happening with psychedelic medicine today." --Dr. Anja Harrison, PhD, King's College London- Department of Psychological Medicine, Fellow of the Higher Education Academy
Psychedelics for Everyone provides great insights into how people are working with psychedelic medicine to help answer some of life's biggest questions and to heal. While taking psychedelics is not for everyone, Matt Zemon makes a compelling argument as to why, under some circumstances, these medicines can promote recovery from mental trauma." --Dr. Srikumar Rao, Founder of The Rao Institute, and best-selling author of Are You Ready to Succeed and Happiness at Work
"Matt's personal stories are a true testament to the wide-ranging powers these medicines can have to heal intergenerational trauma, promote family bonding, and foster empathy." --Dr. Lynn Marie Morski, MD, JD, President of the Psychedelic Medicine Association and Medical Director for Nue Life Health
"Matt Zemon and his team have put together a collection of wonderfully informative chapters. The writing style balances descriptive and technical information in a way that will provide most all readers a good start on their learning journey into the burgeoning arena of psychedelics. While much is yet to be learned, psychedelic-assisted therapy holds out a promise to benefit many people who have yet to find an effective treatment for their mental health issues." --Dr. David Cox, PhD, Executive Officer of the American Board of Professional Psychology
"The psychedelic world is rich, beautiful, and complex. Any person could spend a lifetime studying the cultures, traditions, and potential uses of these substances. Matt Zemon through the book Psychedelics for Everyone does a wonderful job of distilling this information into something that is approachable for everyone. I encourage every veteran who is looking for a better way to heal to start with this book." --Jesse Gould, Founder, Heroic Hearts Project, Army Ranger Veteran
"Psychedelics for Everyone is radically mind-expanding, especially for those of us who group up in the 'just say no' 80s. What a different take on the war on these drugs!" --David Flores, CEO of PSYC Corporation & Psychedelic Spotlight
"A powerful book that will surely win hearts and minds. Although not everyone who reads Psychedelics for Everyone will try a psychedelic, it will be impossible for them not to understand why they are important medicines. The chapters on ketamine are powerful reminders of the potential for this medicine to help so many people who are suffering. It is exciting that more psychedelic medicines are being rigorously studied and appear to be on the horizon." --Dr. David Flynn, MD, MBA, CPHQ, Board-Certified Anesthesiologist
"I have read many books on psychedelics in my almost 10 years of being involved in this work and I really appreciate what Matt Zemon did with this book. His personal stories resonate very strongly with my own path, and I appreciated his vulnerability in sharing them. I also found the breakdown by different substances and sub-themes within them to be a much better-organized introduction than other books out there. Non-professionals and professionals alike will benefit from this as a resource." –Frank Ehrenfried, MA, LMFT, MAPS and Polaris trained Psychedelic Assisted Psychotherapist & MAPS Adherence Rater
FACTS & STUDIES ABOUT PSYCHEDELICS, MICRODOSING & LOWDOSING
A Sampling of Current Psychedelic Studies:

1. MDMA-assisted psychotherapy for PTSD
3,4-Methyl​enedioxy​methamphetamine (MDMA) has been designated by the FDA as a Breakthrough Therapy for the treatment of post-traumatic stress disorder (PTSD). This categorization expedites the approval process for novel therapies for conditions in urgent need of a more effective approach. The Multidisciplinary Association for Psychedelic Studies (MAPS) has been the driving force behind studies of MDMA-assisted psychotherapy treatments for PTSD, which are currently in Phase 3 trials. MDMA has shown great promise in reducing the fear response and allowing those who suffer from PTSD to effectively engage with the psychotherapeutic process. This is because participants often feel empowered to examine the traumatic events of their past without the fear or anxiety they usually feel.
2. Ibogaine for methadone detoxification
Methadone is a very long-acting analgesic drug used to treat withdrawals in cases of dependency on morphine, heroin, codeine, and semi-synthetic opioids. These are some of the most highly addictive substances in the world, and although methadone may help people recover from misuse of such substances, it often creates a new problem of dependency with its own risk of negative withdrawal symptoms. Detox from methadone can be equally as excruciating as opioid detoxification, but researchers at the International Center for Ethnobotanical Education, Research, and Service are working on a solution. They will be administering ibogaine in place of methadone to 2 groups; one will receive a set dose and the other will receive an ascending dose over the same period of time. If methadone withdrawal symptoms appear, half of the previous methadone dose will be administered until no further treatment with methadone is required.
3. Ketamine to prevent postpartum depression
Ketamine has already been established as an FDA-approved Breakthrough Therapy for the treatment of major depression, with clinics offering this medicine nationwide. Now, researchers are expanding the scope of studies in hopes of finding other safe and effective ways to use ketamine. Approximately 1 in 7 women will experience postpartum depression to some degree after giving birth. In the United States alone, around 4 million live births occur each year. That means that an estimated 600,000 people experience postpartum depression annually. This condition not only affects the parent but can also negatively impact the young child without sufficiently effective treatment. Researchers at the Peking University First Hospital have initiated a study investigating how ketamine, which was originally developed and used as an anesthetic, could potentially be administered immediately after childbirth to prevent postpartum depression in people who experienced prenatal depression.
4. LSD for cluster headaches
Cluster headaches are painful and debilitating, often occurring every day for weeks or months over a period of time. Unlike migraines, cluster headaches tend to afflict a certain point in the head around one eye, with pain so excruciating those who suffer frequently report not being able to sit still or lie down. Because of promising results from the use of lysergic acid diethylamide (LSD) in treating anxiety related to living with a terminal illness, alcohol use disorders, and other conditions, researchers at University Hospital in Basel, Switzerland are curious about other applications. This study specifically focuses on LSD as a potential treatment for cluster headaches; the double-blind and placebo-controlled study seeks to investigate reports that LSD has alleviated the severity and frequency of attacks, and even induced remission of cluster headaches.
5. Psilocybin for smoking cessation
Psilocybin is the psychoactive compound found in several species of mushrooms commonly referred to as magic mushrooms. It has shown such promise in potentially treating a variety of conditions that the state of Oregon legalized the therapeutic use of psilocybin by popular vote in 2020, a plan that will be enacted by 2023. Researchers at Johns Hopkins University are conducting a study in collaboration with The Beckley Foundation and Heffter Research Institute to examine whether psilocybin could help people give up smoking when combined with existing, structured smoking cessation approaches.
6. 5-MeO-DMT for Treatment-Resistant Depression (TRD)
5-methoxy-dimethyltryptamine (5-MeO-DMT) is a psychedelic alkaloid derived from tryptamine, which causes hallucinogenic effects. It can be found in several species of mushrooms, certain plants, and even in the skin of the Sonoran Desert Toad. It is closely related to N, N-Dimethyltryptamine (DMT), which is present in commonly discussed psychedelic substances such as the ceremonial ayahuasca. GH Research Limited is investigating the efficacy of and tolerance for their GH001 formulation containing 5-MeO-DMT in addressing the severity of symptoms related to Treatment-Resistant Depression (TRD). They also seek to understand the psychoactive effects as they correlate to different doses and the effects of a single dose on depressive symptoms.
7. Microdosing for frontline healthcare workers during COVID-19
The COVID-19 pandemic has had a devastating impact on so many people across the world. The pandemic has increased feelings of anxiety, isolation, loss, and uncertainty, and added to other sources of stress like financial difficulties. However, few have known the level of stress experienced by frontline healthcare workers during the pandemic. Microdosing has been growing in popularity among creatives, professionals, and others looking for alternative ways to cope with life's challenges. And so, Limbic Medical initiated a study monitoring the results of giving a microse of sublingual ketamine to frontline medical workers suffering from acute stress disorder. Microdosing is the practice of consuming a sub-perceptual dose of a psychedelic substance to enjoy the benefits without the functional impairments of a full-blown trip.
8. Medical cannabis for opioid use reduction
One of the US' most pressing crises is the devastating impact of the over prescription of opioids for managing chronic pain. The data shared by the Centers for Disease Control and Prevention (CDC) estimated that at least 500,000 people died as a result of opioid overdoses from 1999-2019. There is an urgent need for alternative treatments for chronic pain that do not carry such a heavy risk of addiction and overdose. As such, medicinal cannabis for treating various conditions is experiencing a surge in public support. The Albert Einstein College of Medicine, in collaboration with the Laura and John Arnold Foundation and Vireo Health, is investigating whether soft gel capsules containing medical cannabis have the potential to reduce the use of prescription opioids in patients with severe or chronic neuropathic or joint pain.
Ketamine Studies and Brief Descriptions:
Safety and efficacy of maintenance ketamine treatment in patients with treatment-refractory generalized anxiety and social anxiety disorders
Conclusion: "Weekly ketamine dosing was safe and well tolerated, and post-dose dissociative symptoms tended to reduce after repeated dosing. Patients reported marked improvements in functionality and in their personal lives. Maintenance ketamine may be a therapeutic alternative for patients with treatment refractory GAD/SAD.

Ketamine for Social Anxiety Disorder
Conclusion: Ketamine resulted in a significantly greater reduction in anxiety when compared to placebo as assessed by blinded ratings on the LSAS but not on self-reported VAS-anxiety measures. Ketamine also demonstrated significantly greater number of treatment responders as assessed by both LSAS and VAS ratings. Our findings provide evidence for the potential use of ketamine-like compounds for reducing symptoms in SAD. To our knowledge, this is the first placebo-controlled study to investigate ketamine's efficacy in patients with a DSM-5 anxiety disorder.
Ketamine Administration for Chronic Post-traumatic Stress Disorder
Conclusion: This randomized controlled trial provides the first evidence of efficacy of repeated ketamine infusions in reducing symptom severity in individuals with chronic PTSD.
Remission from Chronic Anorexia Nervosa With Ketogenic Diet and Ketamine
Conclusion: There remain many unanswered questions about the generalizability of these findings to other patients with AN. Yet, the medical plausibility of this treatment and the dire prognosis of chronic anorexia nervosa, suggest that both the KG diet and ketamine treatment warrant further study in this patient population towards the goals of restoring weight, normalizing cognitive and emotional functioning, and improving quality of life.
Randomized Controlled Crossover Trial of Ketamine in Obsessive-Compulsive Disorder: Proof-of-Concept
In summary, this study indicates that ketamine can have rapid anti-obsessional effects, and these effects can persist for at least 1 week in some patients with OCD. Future research must clarify the mechanism of ketamine's acute effects and why some (but not all) patients benefit. Ketamine may provide a useful tool to study the glutamatergic mechanism implicated in OCD and, if proven effective, may help identify novel drug targets for this disabling illness.
Ketamine Reduces Alcohol Consumption in Hazardous Drinkers by Interfering with the Reconsolidation of Drinking Memories
Conclusion: This is the first study to demonstrate interference with the reconsolidation of maladaptive alcohol memories in humans using ketamine. These findings highlight the promise of reconsolidation interference as a therapeutic mechanism in harmful drinking, alcohol and substance use disorders and offers key insights into the therapeutic targets of ketamine, while adding to the burgeoning list of its potential psychiatric indications. The striking apparent dampening of reward structures surrounding alcohol and substantial, lasting reductions in drinking levels highlight that reconsolidation interference may form a key part utility of the next generation of more effective long-term treatments for addictive disorders.
A sub-set of psychoactive effects may be critical to the behavioral impact of Ketamine on cocaine use disorder
Conclusion: This is the first controlled study to show that mystical-type phenomena, long considered to have therapeutic potential, may work to impact decision-making and behavior in a sustained manner. These data suggest that an important direction for medication development is the identification of ketamine-like pharmacotherapy that is selectively psychoactive (as opposed to free of experiential effects entirely), so that mystical-type perspectival shifts are more reliably produced and factors lending to abuse or behavioral impairment are minimized.
Ketamine psychotherapy for heroin addiction: immediate effects and two-year follow-up
Conclusion: The results of this double blind randomized clinical trial of KPT for heroin addiction showed that high dose (2.0 mg/kg) KPT elicits a full psychedelic experience in heroin addicts as assessed quantitatively by the Hallucinogen Rating Scale. On the other hand, low dose KPT (0.2 mg/kg) elicits "sub-psychedelic" experiences and functions as ketamine-facilitated guided imagery. High dose KPT produced a significantly greater rate of abstinence in heroin addicts within the first two years of follow-up, a greater and longer-lasting reduction in craving for heroin, as well as greater positive change in nonverbal unconscious emotional attitudes than did low dose KPT. ‍
Efficacy of Ketamine in the Treatment of Substance Use Disorders: A Systematic Review
Conclusion: Seven completed studies were identified. Two studies focused on alcohol use disorder, two focused on cocaine use disorder, and three focused on opioid use disorder. Both cocaine studies found improvements in craving, motivation, and decreased cocaine use rates, although studies were limited by small sample sizes, a homogeneous population and short follow-up. Studies of alcohol and opioid use disorders found improvement in abstinence rates in the ketamine group, with significant between-group effects noted for up to two years following a single infusion, although these were not placebo-controlled trials. These results suggest that ketamine may facilitate abstinence across multiple substances of abuse and warrants broader investigation in addiction treatment. We conclude with an overview of the six ongoing studies of ketamine in the treatment of alcohol, cocaine, cannabis, and opioid use disorders and discuss future directions in this emerging area of research.
At-home, sublingual ketamine telehealth is a safe and effective treatment for moderate to severe anxiety and depression
Findings from a large, prospective, open-label effectiveness trial Conclusion: At-home KAT response and remission rates indicated rapid and significant antidepressant and anxiolytic effects. Rates were consistent with laboratory- and clinic-administered ketamine treatment. Patient screening and remote monitoring maintained low levels of adverse events. Ketamine Assisted Psychotherapy (KAP): Patient Demographics, Clinical Data and Outcomes in Three Large Practices Administering
Ketamine with Psychotherapy
Conclusion: Our findings suggest that KAP is an effective method for decreasing depression and anxiety in a private practice setting, especially for older patients and those with severe symptom burden.